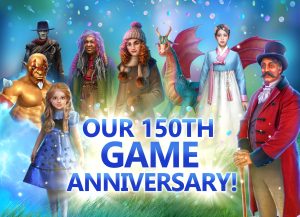 Elephant Games is turning 20 this summer. It's been a long journey, and throughout that time we've had our ups and downs. But this journey has made us who we are today, and we can't thank you enough, the people who have been there for us all this time!
We want to summarize the 2022 year and different milestones we've achieved thanks to you guys!
Our oldest and longest running series, which is no surprise, is Grim Tales! We've released 22 games of this series in almost 10 years and we don't plan to stop!
The most played mobile game of the year is "Haunted Hotel: Lost Dreams" with 24940 players!
We've released 10 PC games this year. We'll do our best to make that number even higher next year!
And finally, in 2022 more that 790000 people around the world played our mobile games! Just imagine, our community can form a big city of HO-games lovers. What should we name it?